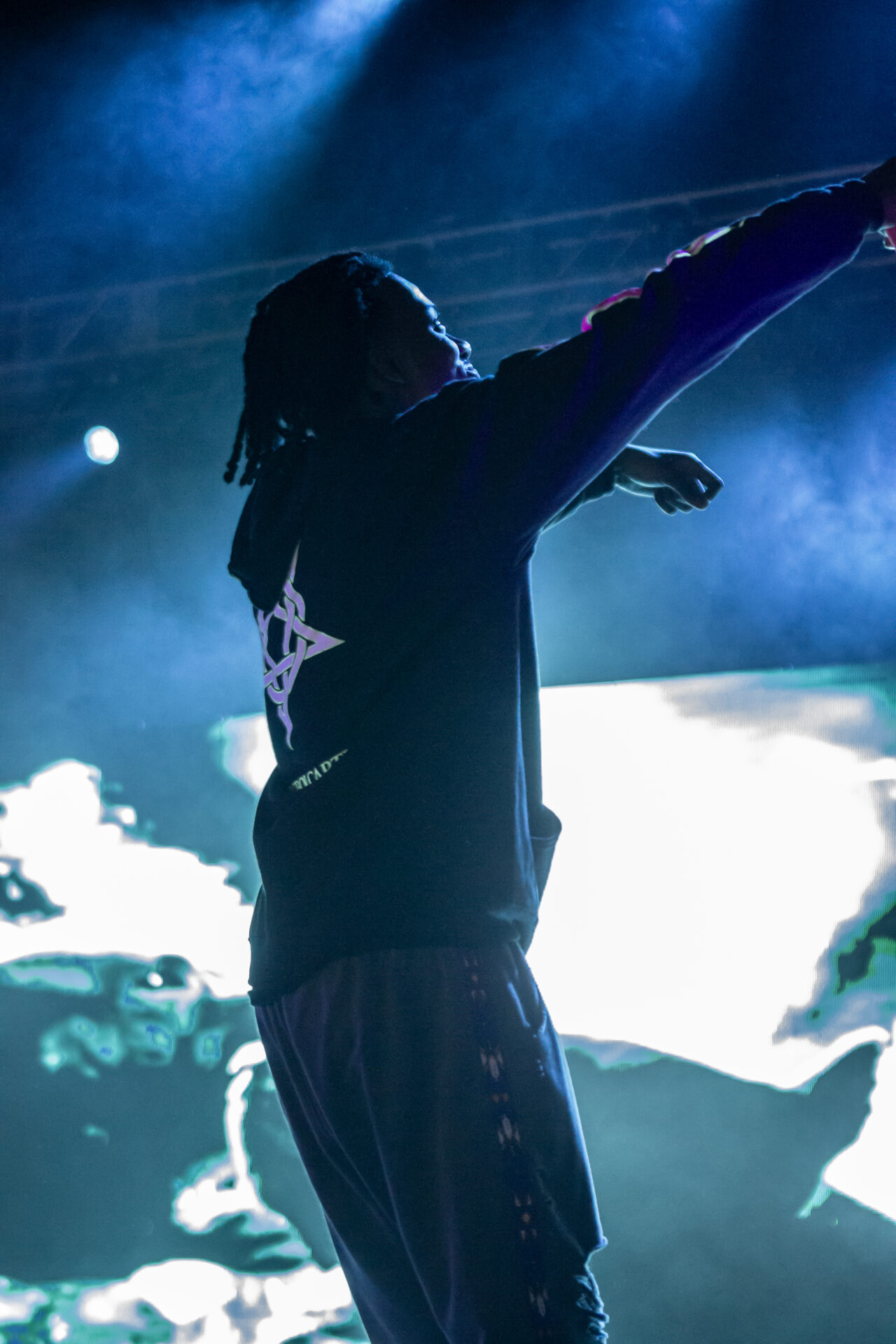 One of rap's most popular stars performed at the Fillmore in Charlotte on Saturday, Nov. 24, 2018. The venue was packed with fans eager to see their idol, with a line snaking around the corner of the next street. From the first minute Playboi Carti appeared on stage to the last minute of the last song, he had his fans singing, screaming and jumping along to every single word. The night exploded with energy. Air Horns were blaring and lights were flashing.
The show began with DJ Stampede and host Chewy, from 92.7 The Block, warming up the crowd by playing recent hit songs like "Mo Bamba" by Sheck Wes and "Sicko Mode" by Travis Scott. Playboi Carti's performance began an hour later, who introduced himself with a nuclear warning that started blasting through the speakers and flashing neon green lights at the crowd, creating a suspenseful atmosphere.
As the last air horn sounded, the intro song "Long Time – Intro" started playing and Playboi Carti finally ran on stage with an unbelievable energy and enthusiasm, making him seem like he was born to perform on stage.
Playboi Carti encapsulated the theme of his "Neon Tour" with a customized pink neon microphone and merchandise with bright neon colors on it, showing them off when appearing on stage. Fans were beyond excited and started purchasing multiple shirts and hoodies before Playboi Carti's performance was even over.
Born Jordan Carter, the 23 year old Rapper hails from South Atlanta. Playboi Carti grew up listening to Prince, Michael Jackson, R. Kelly, Lil Jon, Gucci Mane, and Jeezy, inspiring him to start his music career in high school under the name Sir Cartier. His first few songs like "YUNGXANHOE" and "Lost" helped him accumulate a local following and have gathered millions of streams over the past few years. After graduating, Playboi Carti moved to the Bronx where he became acquainted with the Asap Mob, and gained even more recognition in the hip-hop scene. Tours with Lil Uzi Vert and A$AP Ferg followed before Carti signed a deal with Interscope Records.
Playboi Carti released his long awaited debut mixtape in April 2017. His hit song "Magnolia" peaked at No. 12 of the Billboard Top 200 Charts. The song garnered attention of various music publications and contributed to his current fame and success. Accompanying the mixtape's release, Playboi Carti embarked on a tour with Gucci Mane and Dreezy. The following year, in 2018 he released his studio debut album, Die Lit, which featured guest appearances from Nicki Minaj, Young Thug, Skepta, Lil Uzi Vert, Travis Scott, and Chief Keef, among others. Upon release, the set peaked at number three on the Billboard 200 and rose to number two on the R&B/Hip-Hop chart.
Playboi Carti will continue his tour in Nashville after a successful night of performing for Charlotte.
Author: Ryan Schmidt
Instagram: https://instagram.com/imryanschmidt
Twitter: https://twitter.com/imryanschmidt